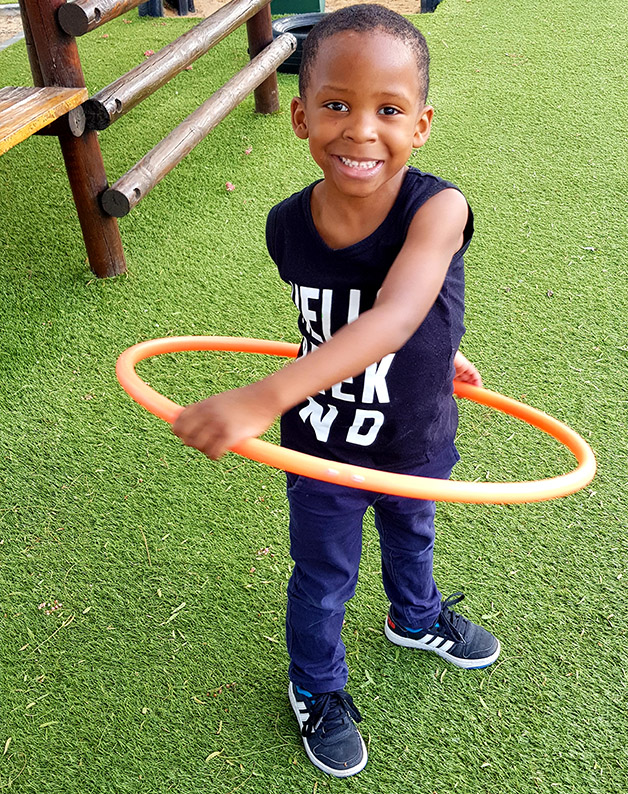 Stepping Stones is more than just a day-care centre. Although we provide a valuable facility for working parents, our purpose extends beyond this. Our approach places the holistic development of the child at the centre of the learning process. We favour non-competitive cooperative learning methodologies that focus on the child, both as an individual, and as a part of a learning, growing community.
The early formative years in the life of a child are crucial, not only for cognitive, motor and emotional development, but also for the establishment of a positive attitude towards self and life.
We recognise that our school does not exist in a vacuum but operates in a social context that struggles with differences, divisions and inequality. We strive to teach the child to recognise the richness and beauty of diversity. We also work with parents to instil in our children a healthy attitude towards themselves and others. A child's curiosity is the best tool to encourage them to explore and discover all that makes each of us uniquely human.
We strive to ensure that each child feels that their way of being is valid, and that it is indeed a wonderful way of being. We support the development of a positive self-image – an essential ingredient for their future academic performance and general functioning as a well-rounded, responsible member of society.
Opinions about people are usually formed based on superficial  factors such as language competency, economic position, gender, body image, etc. At Stepping Stones we strive to teach children to let go of judgement and practice acceptance and tolerance. The children are exposed to a variety of situations in which they learn to accept, engage and embrace diversity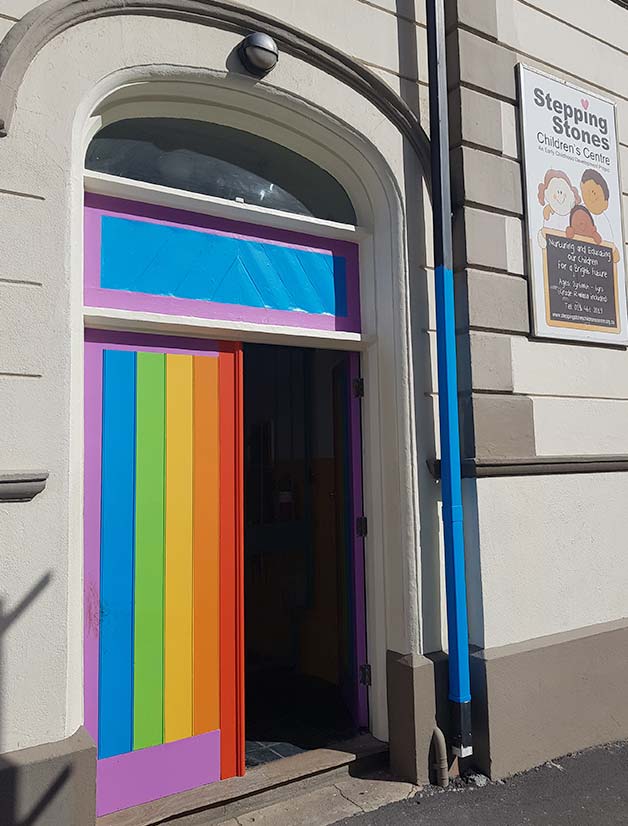 History
Stepping Stones Children's Centre has a rich history. Founded in 1976, the centre opened its doors for the first time to 20 pre-school children in the premises of the old Albertus Street Primary School. The school was closed in the late 1960s as a result of the forced removals under the Group Areas Act. It became a project of the Buitenkant Street Methodist Church lead by Rev. Dr Charles Villa-Vicencio. Many parents who had been forcefully removed from District Six still came to work in the city and had no safe place to leave their children while they were at work. The church responded to this challenge by establishing a day-care centre. One of the founding principles of the centre was that children would not be classified according to race.
As a result of this, the school received no funding from the State throughout the apartheid years. The school started with a minimal budget and for a long time relied on volunteers in the classrooms, the kitchen and the office.
Registration
Admissions take place annually. You can collect the application form from 01 July at the school or download it here. All forms must be returned by no later than 31 August. No registration fee is required. During the 3rd week of September you will receive a notification to attend a meeting at the school in October after which your child's registration will be finalised.
We invite you to come and enjoy a tour of the school – please contact us to arrange an appointment to view.
If you need to find a place for your child once the school year has already started, please contact the office to inquire if there is space available.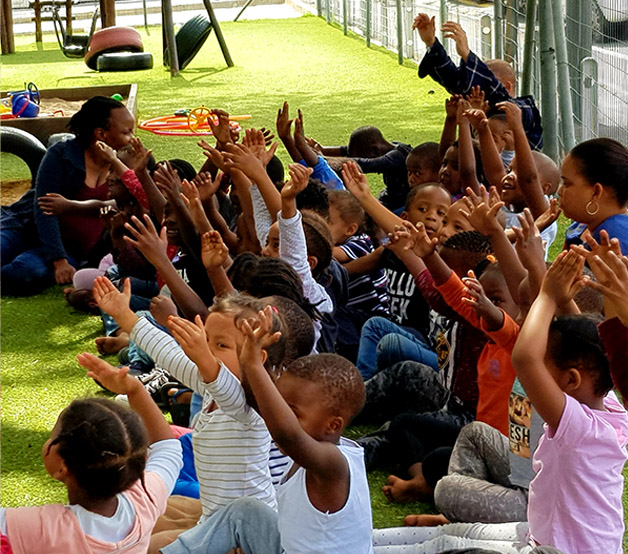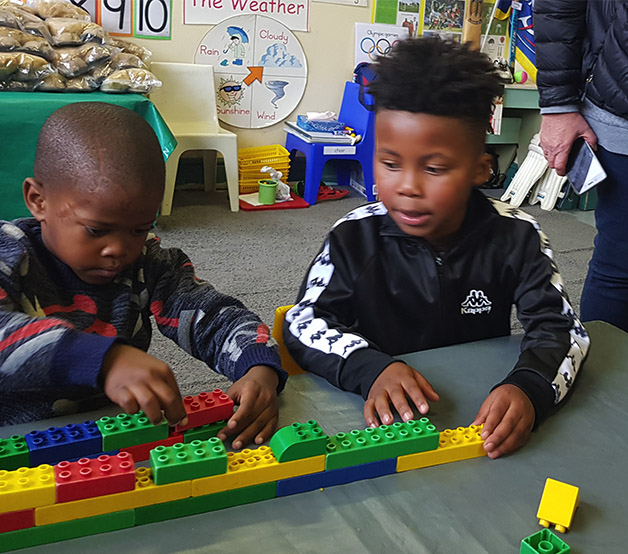 Fees
A scaling structure linked to the income of parents determines the monthly payable fees per child. Fees are for full day-care. The Fee scale for 2019 starts at R1000 and goes up to R1600. Parents have to provide a proof of income to the school. Please note that the annual fee increase for the following year will be determined by the board of Stepping Stones in November.
There are 11 monthly fee payments for the year (January to November), payable in advance at the beginning of the month. No fees are payable for the month of December.
Staff
Principal: Thelma Chisholm provides leadership and oversight management.
Curriculum Staff Support/Office Admin: Rochelle Fleshman
Early Childhood Development Level 5 Practitioners: Nomathamsanqa Maria Bhakana, Lizel Abrahams, Rosche` Skink and Daphne Samba Kabassidi – take care of the overall educational ineeds of the children.
Grade R teacher: Nadine van Boven (B.Ed) and CAPS trained
Aftercare Educare practitioner for Grade R: Busiswa Hasane
General cleaner: Amina Ambrose
Catering: Chef Mark Henry & Kitchen Assistant, Bernard Matunga – responsible for the preparation and teaching of healthy nutrition.
Staff Support Educarer: Daphne Samba Kabassidi
Gate security: Jeanette Maniema Bahati
Library support staff: Thandiswa Kwepile
Helping Staff: Sibongile Sam – Multi-sports coach for Grade R
Volunteers: Marnel Smit (musical journey), Megan Fraser (stillness practise), Vivian Ashcroft (weekly reading hour)
Fees Coordinator: Nosipho Fiyo
Vacancy: Cook & Kitchen Manager. Click here for more information.
The Board
The Stepping Stones Board of Management consists of representatives elected from the parent body, members of the Central Methodist Mission Cape Town and members of the community. The board supports the Principal and provides oversight and governance support.
Chairperson: Rev Alan Storey
Secretary: Jane Lawrence
Treasurer: Joseph Schaffers
Member: Marion Abrahams
Member: Linda Gordon
Member: Carolin Gomulia
Principal: Thelma Chisholm
Partnership: Patricia Ralarala
Parent Rep: Khayalethu Nkozwana
We sincerely appreciate the assistance and donations received from the many individuals and organisations who have supported us in the past, and those who continue to do so. Without this generous support, the development and opportunities afforded the graduates of Stepping Stones Children's Centre would not have been possible.
Thank you for your generosity!